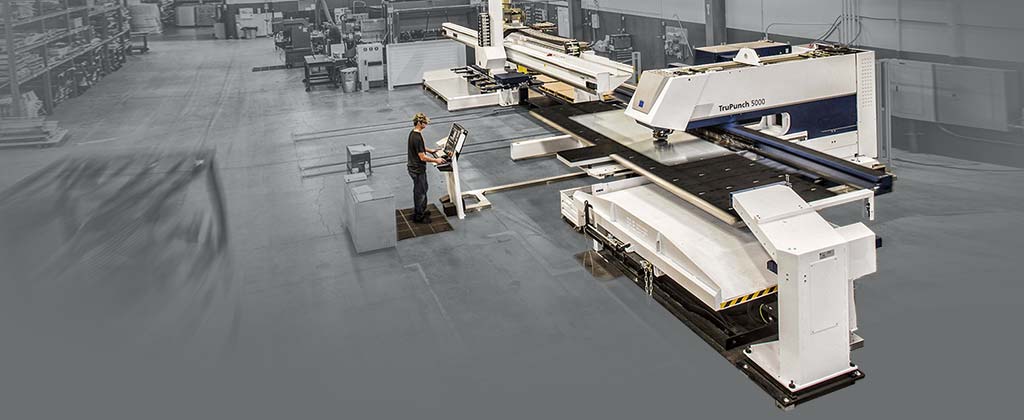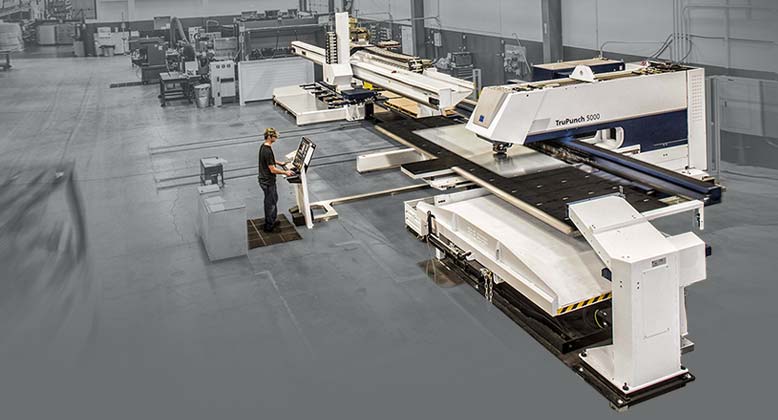 Trumpf TruPunch 5000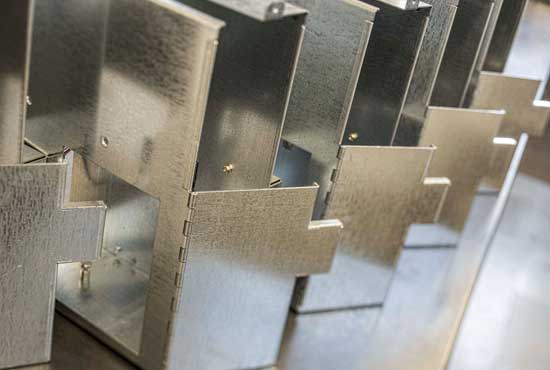 Go Beyond Average Manufacturing
There's average, and then there's B&J Inc. We're constantly investing in new equipment, training, and keeping our technology state-of-the-art, so our customers receive the highest quality parts most efficiently and cost-effectively. Our Sheet Metal Manufacturing department consists of Laser Processing for Tube & Sheet, Welding and Spot Welding, Press Brake, Punching, Hardware, and Assembly.
New
Sheet Fiber Laser Cutting
PRECISION, SPEED, MATERIAL VERSATILITY
There is no better cut quality and production speed than a fiber laser cutting machine. With this 8kW Fiber Laser, we've now increased our cut capacity to 1″ steel.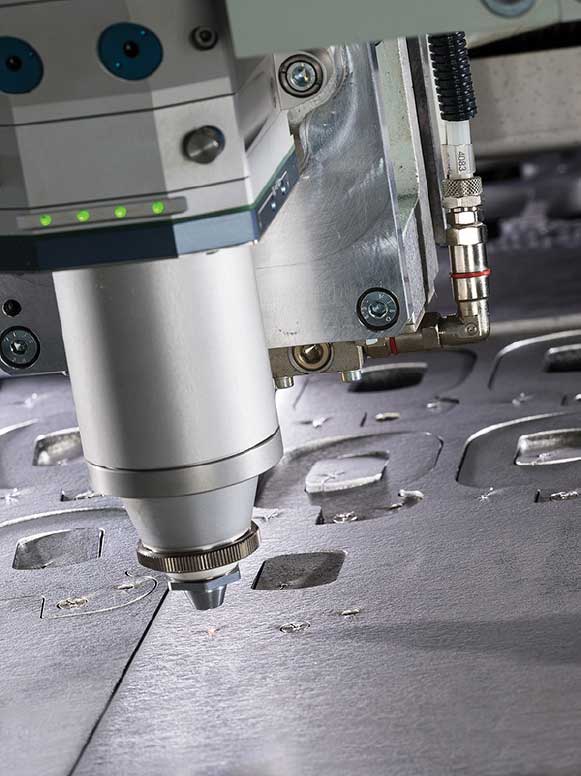 LASER PROCESSING
If you want perfection, you've come to the right place.
Our advanced laser cutting is available on most materials, ranging from shim stock to heavy-gauge plate holding tight tolerance. We're able to minimize waste, and maximize material usage by dynamically nesting parts, and get projects to market quickly with our 24/7, load/unload automation processing capabilities.
• Perfect quality
• Perfect edges
• Delicately cut thick steel
• High performance WELDING & SPOT WELDING
WELDING &
SPOT WELDING
Our team of highly experienced welding technicians can work on and join any type of metal, and any size piece. We're experts at spot welding, plus MIG, TIG, SMAW, and FCAW welding processes. Because we strive to be the only shop you need, we even have a certified welding inspector on-site to take care of customer certifications to basic AWS standards. PRESS BRAKE
We can bend thin and thick sheet metal parts with a high level of angular accuracy thanks to our fleet of press brake machines.
Our customers enjoy complete production freedom with our lower tool displacement and six-axis back gauge features that provide unrivaled bending and production productivity. We're up for any challenge, and will meet your needs, from simple fast-cycling "one benders", to difficult six axis back gauging.
• Thin or thick sheets
• Precise angular accuracy
• 6-axis backgauge
• Increased productivity due to automation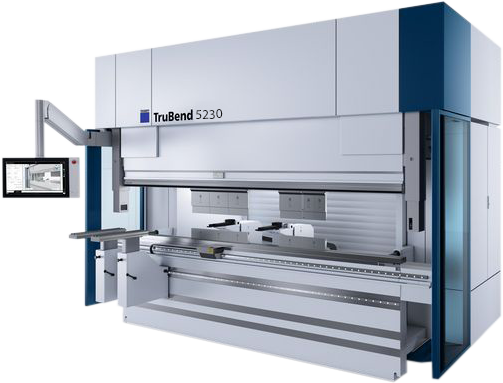 PUNCHING
Around here, the future is now in large batch and lean manufacturing.
We perform exceptional, fully automated, 24/7 unmanned operating for large batch manufacturing, and we're quick and flexible with single-digit setups for lean manufacturing.
Our Trumpf TruPunch 5000 has raised the bar for punching, and is dubbed the "fastest punching machine in the world", distinguished by its excellent productivity and expanded automation solutions.
Its exceptional hydraulic drive is capable of punching up to 1,600 strokes per minute, plus has smart functions and intelligent automation components to complete your project in no time.
• 1,600 strokes/min
• Increased productivity due to automation
• Highest part quality
• Fast tool change
• Gentle processing Sheet Metal Fabrication
| MACHINE TYPE | DESCRIPTION | QUANTITY |
| --- | --- | --- |
| Laser | BLM Group LS5 – Flatbed Laser, 8kW Fiber Laser with Fully Automated Load/Unload System for 24/7 Operation | 1 |
| Laser | Trumpf L3030 (5' x 10') 4000 Watt Laser with "Lift Master" Load/Unload System for 24/7 Operation | 1 |
| Trumpf Punching Cell | Tru-Punch 5000 With "Sheet Master" Load Unload and part sorting 24/7 Automation with brush table | 1 |
| Press Brake CNC 6 axis | Trumpf 5230 Press Brake with 6 Axis Back Gauge | 1 |
| Press Brake CNC 6 axis | Trumpf V-130 Press Brake with 6 Axis Back Gauge | 1 |
| Press Brake CNC 5 axis | Amada 8025, 8 Foot Servo Hydraulic Press Brake | 2 |
| Press Brake CNC 3 axis | Amada RG 50, 6 Foot Hydraulic Press Brake | 2 |
| Shear | Wysong 10' X 1/4" Capacity with 10' Squaring Arm | 1 |
| Fastener Insertion Systems | Haeger 824 "Window Touch" Multiple Fastener Insertion | 2 |
| | Haeger 824 Press with Auto-Feed | 2 |
| | Haeger HP -6 Press | 2 |
| Grainer/Sander | Time Saver / Surface finishing 36″ wide capacity | 1 |
| Vibratory Finishing | Torex 4 Cu. Ft. Vibratory bowl finishing | 1 |
| | Burr King 3 Cu. Ft. Vibratory bowl finishing | 1 |
Tool and Die
| MACHINE TYPE | DESCRIPTION | QUANTITY |
| --- | --- | --- |
|  Tap, Drill Disintegrator | Elox | 1 |
|  Hardness Tester | Enco | 1 |
| Surface Grinder | Boyer Schulz 12 x 6 | 1 |
| Heat Treat Oven | M.J.A. Richards | 1 |
| Hydraulic Press | 20 Tons | 1 |
Miscellaneous
| MACHINE TYPE | DESCRIPTION | QUANTITY |
| --- | --- | --- |
| Overhead Crane |  5 Ton Capacity | 2 |
| Software | MetaCAM/MetaBEND | 3 |
| Quality Assurance | Zeiss CMM | 1 |
| Software | Solid Works | 4 |
| Software | BobCAD-CAM | 2 |