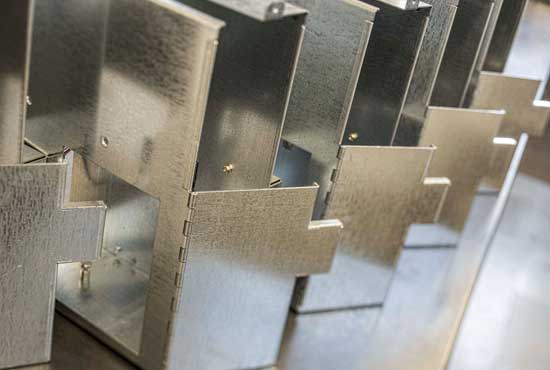 Go Beyond Average Manufacturing
There's average, and then there's B&J Inc. We're constantly investing in new equipment, training, and keeping our technology state-of-the-art, so our customers receive the highest quality parts most efficiently and cost-effectively. Our Sheet Metal Manufacturing department consists of Laser Processing for Tube & Sheet, Welding and Spot Welding, Press Brake, Punching, Hardware, and Assembly.
New
Sheet Fiber Laser Cutting
PRECISION, SPEED, MATERIAL VERSATILITY
There is no better cut quality and production speed than a fiber laser cutting machine. With this 8kW Fiber Laser, we've now increased our cut capacity to 1″ steel.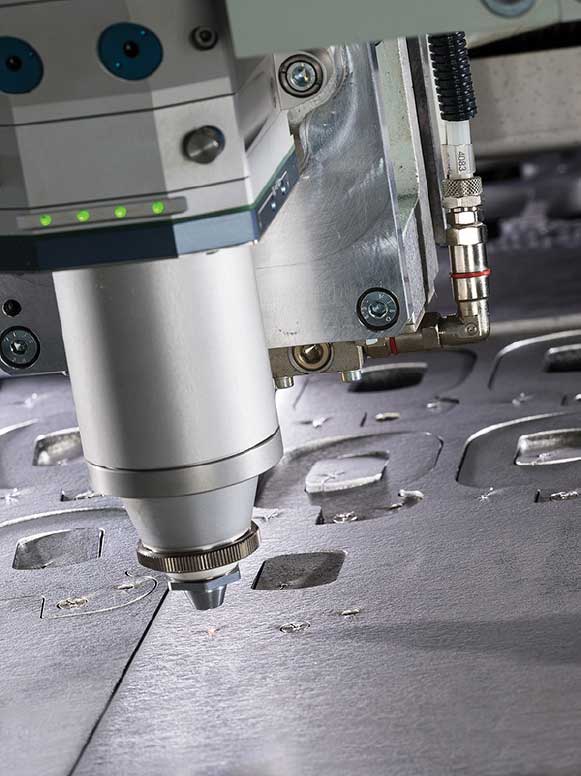 Sheet Metal Fabrication
| MACHINE TYPE | DESCRIPTION | QUANTITY |
| --- | --- | --- |
| Laser | BLM Group LS5 – Flatbed Laser, 8kW Fiber Laser with Fully Automated Load/Unload System for 24/7 Operation | 1 |
| Laser | Trumpf L3030 (5' x 10') 4000 Watt Laser with "Lift Master" Load/Unload System for 24/7 Operation | 1 |
| Trumpf Punching Cell | Tru-Punch 5000 With "Sheet Master" Load Unload and part sorting 24/7 Automation with brush table | 1 |
| Press Brake CNC 6 axis | Trumpf 5230 Press Brake with 6 Axis Back Gauge | 1 |
| Press Brake CNC 6 axis | Trumpf V-130 Press Brake with 6 Axis Back Gauge | 1 |
| Press Brake CNC 5 axis | Amada 8025, 8 Foot Servo Hydraulic Press Brake | 2 |
| Press Brake CNC 3 axis | Amada RG 50, 6 Foot Hydraulic Press Brake | 2 |
| Shear | Wysong 10' X 1/4" Capacity with 10' Squaring Arm | 1 |
| Fastener Insertion Systems | Haeger 824 "Window Touch" Multiple Fastener Insertion | 2 |
| | Haeger 824 Press with Auto-Feed | 2 |
| | Haeger HP -6 Press | 2 |
| Grainer/Sander | Time Saver / Surface finishing 36″ wide capacity | 1 |
| Vibratory Finishing | Torex 4 Cu. Ft. Vibratory bowl finishing | 1 |
| | Burr King 3 Cu. Ft. Vibratory bowl finishing | 1 |
Tool and Die
| MACHINE TYPE | DESCRIPTION | QUANTITY |
| --- | --- | --- |
|  Tap, Drill Disintegrator | Elox | 1 |
|  Hardness Tester | Enco | 1 |
| Surface Grinder | Boyer Schulz 12 x 6 | 1 |
| Heat Treat Oven | M.J.A. Richards | 1 |
| Hydraulic Press | 20 Tons | 1 |
Miscellaneous
| MACHINE TYPE | DESCRIPTION | QUANTITY |
| --- | --- | --- |
| Overhead Crane |  5 Ton Capacity | 2 |
| Software | MetaCAM/MetaBEND | 3 |
| Quality Assurance | Zeiss CMM | 1 |
| Software | Solid Works | 4 |
| Software | BobCAD-CAM | 2 |